Review of Communication and Promotion activities 2008
Date: 9
 February 2009 
Summary of Promotional and Awareness Activities
This document outlines the activities carried out by INAB to promote accreditation and INAB in 2008.
NEWSLETTERS:

In 2008, 3 editions of the INAB Standard Newsletter were printed and 7000 copies were distributed to all clients, assessors, government departments, local authorities, semi state bodies, Irish industry and to the broader network of international accreditation bodies.

INAB BROCHURE:

The INAB brochure was given a complete revamp to both its content and design.The new brochure was launched in 2008.Copies of the brochure were distributed to all members, assessors, Irish industry and government.
ADVERTISEMENTS / EDITORIALS:
5 promotional editorials/adverts were taken out by INAB.
There were 3 with national newspapers and 2 with Trade Journals which were sector specific.
NATIONAL PRESS:

Irish Times – Announcement / List of All INAB Accredited members
In January 2008, a list of all INAB Accredited members was published in the Business Section of the Irish Times. This was a ¼ page full colour announcement, which detailed all accreditations awarded by company and location.

Sunday Tribune – List of All INAB Accredited members / Interview with Manager of INAB
In February 2008, INAB re ran the ¼ page colour announcement of all its accredited members in the Business Section of this Sunday national paper.An interview with Tom Dempsey, manager of INAB, was also included.

Sunday Business Post – Interview Manager of INAB – Feb 2008
o "Accreditation benefits both end user and the economy"
TRADE JOURNALS:
Pharmachem – Oct 2008
Announcement of all Accredited INAB organisations and 1 page editorial – colour.
Technology Ireland – Nov 2008
Announcement of All accredited organisations and 1 page editorial – colour

INAB ASSESSOR FORUM:
On January 22nd and 29th 2008, INAB hosted its 2nd INAB Assessor Forum in Dublin.INAB Assessors from Ireland, UK, Germany, Switzerland and Sweden participated.
The primary objective of the forum was to exchange information with assessors, and harmonise the accreditation process.
Forum content included, the role of INAB and the harmonisation of the accreditation process; results of the accreditation survey; feedback from client workshops; Aspects of the Assessment Process; and deviating samples, non compliances, LOD's and flexible scopes.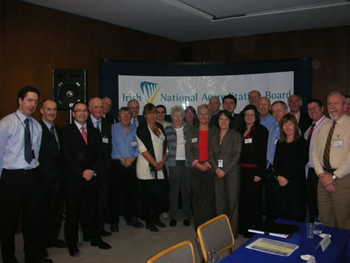 Presentations/Workshops:
INAB held a 1 day workshop on IS0 15189 in June for technical experts who completed a 1 week IS0 17025 training course in March 2008.
25th April – presentation on Accreditation and Standards to the National Cancer Screening Service Programme QA Framework meeting in Dublin.
28th and 29th April – presentation " Auditing of Laboratories responsible for Official Control of Foodstuffs" to the CAFIA – Food Authority of the Czech Republic ".
May 15th – presentation on blood bank accreditation and INAB to the masters programme in DIT for Blood Transfusion scientists.
15th October – presentation at the National Haemovigilance Conference in Limerick on INAB Accreditation and regulatory requirements for blood banks .
20th October – INAB Workshop for the AICs , with feedback on the accreditation scheme for inspection undertaken
22nd / 23rd October – presentation (on the Benefits of Accreditation in Public Services)to the 2nd national Water summit in Croke Park Convention centre – event organised by the Sunday Business Post and iQuest.
SURVEYS:
As part of the INAB Awareness Campaign, two surveys were conducted which targeted Irish Industry & Government (Phase 1) and End Users of accreditation (Phase 2).
On December 5th 2007, INAB distributed Phase 1 of the survey to senior government staff (T.D's, Senators, Policy Makers) and Irish Industry (CEO's, MDs, QMs).
The objective of the survey was to ascertain the awareness of INAB and Accreditation. The survey had a 15.5% response rate.
Phase 2: This was a generic survey on Accreditation which aimed at end users of Accreditation, our members customers. The objective of this survey was to establish end users knowledge of the accreditation service they receive, the benefits it brings, and their awareness of INAB and Accreditation. This was distributed in April 2008 and closed on June 9th 2008.

Results of the survey are available on the INAB website under the latest news section.
WEBSITE:
INAB launched its new website the end of 2008.
The INAB website has undergone a complete redesign with a view to improved usability, search features and branding.
There has been particular emphasis to improved layout and advanced search features to allow site users to be able to more readily access information such as scopes and relevant documentation (In any document format), as well been made more clearly aware of activities of INAB and accreditation related material.
As well as this there is a RSS feed feature that allows users to track updates to the site. INAB website follows guidelines set out by the W3C (the World Wide Web Consortium) that are an internationally recognised benchmark of accessibility.
The site is built using a content management system that allows INAB update the site in a safe and secure manner improving efficiencies.
Accreditation - Delivering a Safer World
Quick Links