IAF Agreement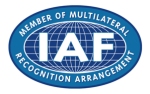 INAB CERTIFICATION BODIES APPLY FOR THE IAF MLA MARK
IAF MLA MARK – LICENCE AGREEMENT
All INAB Accredited certification bodies are open to use the IAF MLA Mark, once they have completed the Licence agreement process.

The IAF MLA Mark can be used in accordance with the main scopes and sub scopes of the IAF MLA of which the licensed IAF MLA Member (INAB) is a Signatory, and for which the CAB has been accredited. 

How to apply for licence agreement?
INAB accredited certification bodies are required to read the attached licence agreement: IAF Mark Agreement .
Please print two copies and sign 
Return to INAB, The Metropolitan Building, James Joyce Street, Dublin1.
INAB will sign, date and return ONE copy for your records.
INAB will make available an electronic format of the IAF MLA Mark.
It is important to note that the IAF MLA Mark cannot be used until all the steps above have been completed by both INAB and the INAB Accredited Certification body.