INAB Customer Relationship Management (CRM)
What is the INAB CRM?
It is our secure IT system, designed and developed to manage INAB data and processes associated with the accreditation and management of our Conformity Assessment Bodies (CABs). The scope of the system includes our clients (CABs) and assessors who provide the expertise on which accreditation depends.   The INAB CRM portal provides secure access to our CABs and assessors to facilitate them to register and maintain their online INAB account, which facilitates a number of online processes (see table below).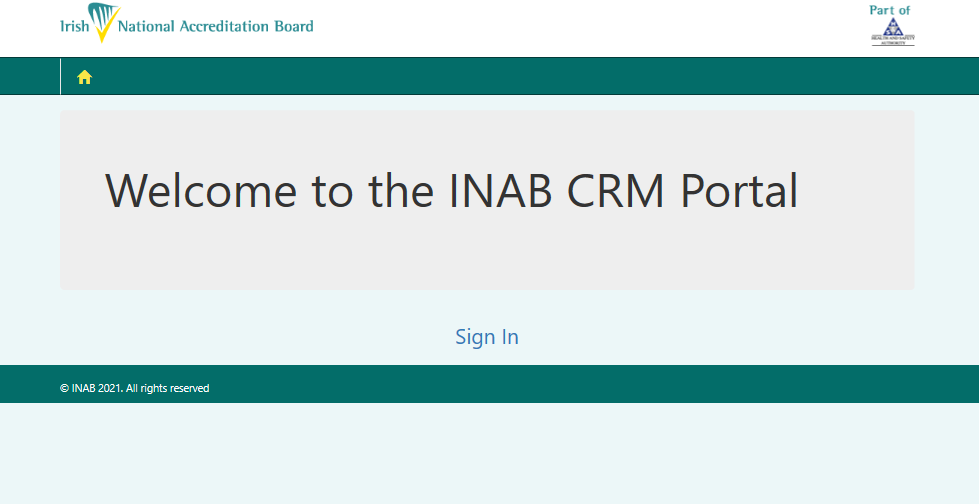 How does a new client (CAB) gain access to the portal?
Request access through our Contact Us form and you will be sent a link to register and complete your application for accreditation.
When does an assessor receive their link to register their profile and application in the portal?
Following receipt and review of your expression of interest; or if you have been contacted by our quality team as a potential expert, you will be sent a link to register and complete the assessor profile.
See our assessor information page for further details.
Users of the CRM portal will have their own secure account – which facilitates you to:
| | |
| --- | --- |
| CAB Portal – for clients | Assessor portal – for new and existing assessors |
| Apply for accreditation | Register your application to become an assessor |
| Apply to extend or amend your scope of accreditation | Update your profile and qualifications |
| Access and accept your assessment date, team and review the visit plan | Access to all scheduled assessments |
| Upload documentation for your assessment | Access to all relevant documents for each assessment |
| Respond and action nonconformities | Confirm the scope elements assessed |
| Keep up to date on the management and maintenance of your accreditation | Upload your nonconformities; review CAB responses and approve or reject |
| Keep your contact and profile details current | Upload relevant Summary reports |
| Raise accreditation queries directly to your assessment manager | Claim for your expenses and fees for each assessment |
| Access information on your annual management fee and reminders for payments. |   |
Support and Guidance
Once you are registered all guidance documents and resources can be accessed on the Portal Document Library