Taking Care of Business – Wed 8 November 2017
Date: 23
 November 2017 
TAKING CARE OF BUSINESS (TCOB)
INAB attended the TCOB event in November in Dublin Castle – 8th November 2017.
This event is specifically designed to help small and start-up businesses understand and benefit from the services provided by many of our State offices and agencies.
Look out for their next events on http://www.takingcareofbusiness.ie/
INAB and the HSA stand at the Taking Care of Business event in Dublin Castle on 8th November 2017.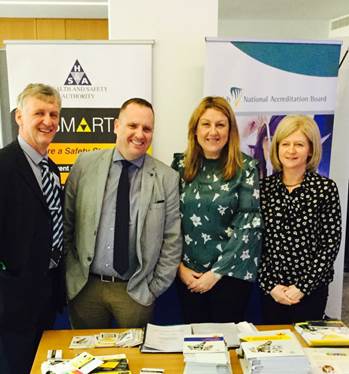 Martin O'Dea, HSA; Brian Molloy, HSA; Orla Ivers, INAB and Brid Burke INAB.
INAB has been part of the HSA structure since September 2014 under the Industrial Development (Dissolution of Forfas) Act 2014.
Accreditation - Delivering a Safer World
Quick Links