New European co-operation for Accreditation Multilateral Agreement annual report published
Date: 2
 July 2012 
0

EA has published the 2011 Multilateral Agreement (EA MLA) annual report to set out the current status of the agreement, and the activities involved with the peer evaluation process.
The report contains statistical information on the number of signatories to the EA MLA and a headline presentation of the key activities completed in 2011 to further develop the coverage of the MLA and to strengthen the operation of the peer evaluation system.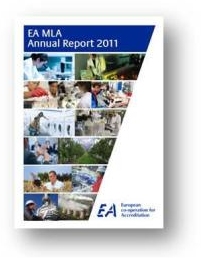 The peer evaluation activities assess the on-going compliance of the national accreditation bodies to the internationally agreed requirements and ensure that regulators, stakeholders and the business community can have confidence in certificates and reports issued by conformity assessment bodies under the EA MLA.
Publication:EA MLA Annual Report 2011
Accreditation - Delivering a Safer World
Quick Links